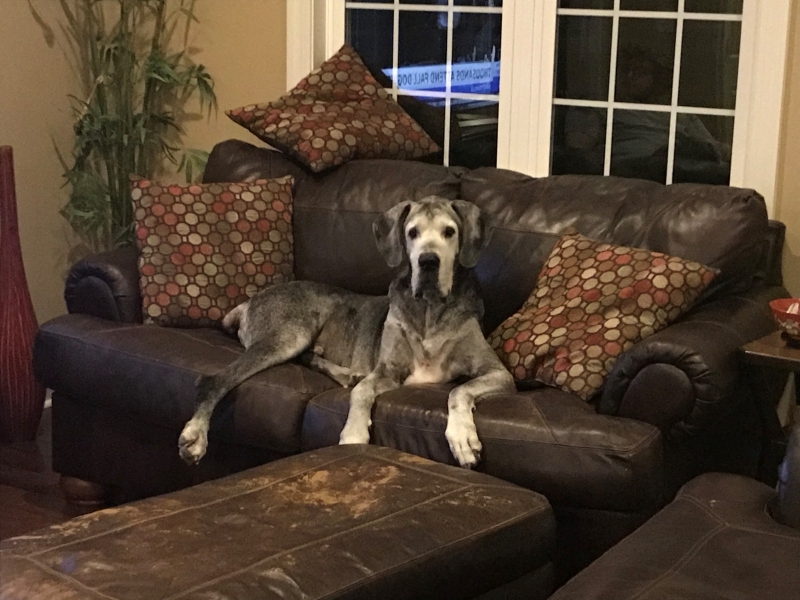 I have always wanted a Great Dane, but we were turned down by 3 different rescue agencies because we have a pool in our backyard. We've been told that Great Danes can't swim. So, I assumed it was never going to happen. Then, along came Buddy.
Buddy and his owner were staying with a friend of ours who hosted our weekly Bible studies. Every now and then, our friend would bring Buddy out to visit while the owner was at work in the evenings. I felt a special bond with him and immediately fell in love with this enormous, gentle giant. He was so loving and always wanted to lean against me or sit in my lap.

His owner worked many hours and felt it was in Buddy's best interest to find him a home where he would have lots of attention and be well cared for. Our friends immediately thought of us and we set up a meeting with the owner. Buddy came home with us that night.
It was hard because we didn't think he would be around much longer since already at the end of his life expectancy: about 10 years old. But 2 ½ years later he is still with us. He is spoiled beyond belief, as he should be, and still in great shape for a dog his age. He has truly been a blessing in our lives (maybe not for the other 2 dogs, LOL). He is still a lap dog and loves lots of snuggles, back scratches, and sleeping in our bed.
We are so grateful to be able to spend his last days with him.
Sherry Inman, Broker
About
Nolan Formalarie has been in the North Carolina Real Estate Industry for over 8 years and enjoys every minute of it. He is involved in every aspect of the industry including selling and purchasing residential property, home watch services, property management, association management and construction.