We hope you enjoy this article from our Guest Blogger, Harry Cline.  It's never too soon to start thinking about retirement. In this article, Harry shares some food for thought about planning and saving for retirement.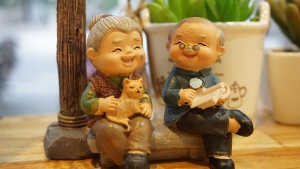 Reaching retirement age is a major milestone, but just because you've crossed that finish line doesn't mean you get to rest on your laurels. In fact, being able to afford retirement becomes your chief concern once you hang up your hat on the old nine-to-five. Choosing where you're going to spend your retirement is one of those big questions you'll need to answer if you want to ensure you'll be able to afford your new lifestyle.
Modest Living Means More in Your Pocket
With retirement equating to fixed income levels, it's important to stretch every penny as far as it can go. This can be difficult when it comes to living arrangements, as there will always be at least some cost associated with having a roof over your head. Controlling these costs by living well within your means can go a long way toward having more cash in your savings account at the end of the month.
For retirees interested in aging in place, modest living can take many forms. Being thrifty with your utility expenditures is one way to save. Asking yourself if you really need to pay for both a landline and a mobile phone or if really need that expensive cable package can be ways to cut household costs significantly. Yet if you're not particularly tied to your home — maybe it's too large for your needs, or your property taxes are too high, or you don't want to spend the money on renovating it to make it more senior-friendly — downsizing to a smaller, less costly property can help even more.
---
Here is a comprehensive guide  called "How Much Do I Need to Retire" by Christy Rakoczy.
This guide provides insight into how much income you should save for a financially secure retirement.
The amount will depend on a variety of factors including where you live, your spending, and more.
– click to access the guide –
---
How to Choose a New Home
If you've decided to move to greener (and more affordable) pastures, congratulations! The good news is that the proceeds from the sale of your existing home will likely cover the cost of your new one and then some. The bad news is you've got to choose your new home! You've got plenty of options, however:
A (smaller) traditional home: moving into a cottage or other small home shrinks all your costs significantly. Make sure to choose a neighborhood that works for your needs and be thorough in assessing what you can comfortably afford to spend!
A condo or apartment: a condo development or apartment complex offers amenities and socialization opportunities while minimizing maintenance and upkeep costs.
A retirement community: Great for retirees who have physical needs or medical issues, assisted living communities are especially appropriate for anyone who needs a little extra help.
No matter what option you take, you're going to be able to stretch your retirement dollars more comfortably than you would in a too-big-for-you home. You'll also benefit from being able to choose a new place to live that has all the amenities you need to remain safe and comfortable, like senior-friendly bathrooms or easily-accessible entrances.
Maximizing Your Retirement Savings
Adjusting your living arrangements to match your retirement budget is an excellent method for stretching your now fixed income after retirement. Yet there are other ways to maximize your retirement savings to provide additional comfort and security, and these methods begin well before you're ready to retire. It's never too late to consult a financial advisor or even just plug your details into an online retirement calculator to see how close you are to your retirement savings goals — and to see how you might need to modify your savings strategy. The more you plan now, the more resources you'll have later, so don't delay!
Your retirement years should be as relaxing and stress-free as possible, and that means money worries should well be out of your mind. Taking proactive steps to prepare your retirement savings now, or relocating from an expensive-to-maintain home into a more modest and affordable one are excellent ways to get that peace of mind.
Harry Cline | info@newcaregiver.org
The New Caregiver's Comprehensive Resource: Advice, Tips, and Solutions from Around the Web