It takes a village to raise a family and Samara's Village is making sure young families can do just that! Founded in 2015, Samara's Village is a non-profit charity that provides education and support for pregnant and parenting adolescents and their families.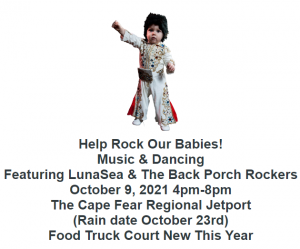 Discover NC Homes is proud to support "Rockin' for the Future", a drive-in concert to support Samara's Village. The event will be held from 4-8pm on Oct. 9 at the Cape Fear Regional Jetport on Long Beach Road, Oak Island. Live music provided by The Back Porch Rockers and Luna Sea begins at 4pm. Food vendors, including Burney's Bakery, Street Slingers, Wheelz Pizza and Snowies, will also be available. Bring your lawn chairs or listen from the comfort of your car. Tickets are $50 per car and can be purchased by visiting www.samarasvillage.org.  Contact Judy Van at judy@samarasvillage.org with questions.
The event also includes a raffle for a Blue Sky Fire Pit, Grog basket, a Helicopter Lighthouse tour and an Adventure Kayak tour. Raffle tickets are $10 each or $20 for three. That's a buy two, get one free deal! Tickets can be purchased at the DiscoverNChomes office, located at 4320 Southport-Supply Rd. Suite 100, at Samara's Village link, or day of event.
About Nolan Formalarie
Nolan Formalarie has been in the North Carolina Real Estate Industry for over 8 years and enjoys every minute of it. He is involved in every aspect of the industry including selling and purchasing residential property, home watch services, property management, association management and construction.