The North Carolina Department of Transportation (NCDOT) Division 3 in Castle Hayne, NC, held a briefing for the Southport – Oak Island Chamber of Commerce on July 21. It focused on Brunswick County Transportation Projects, including bridge replacement in the county and the NC 211 Widening Project. A link to that briefing has been added to the Town's website here: https://www.townofstjamesnc.org/index.asp?SEC=782A3CD1-8C76-44EA-A817-525297BA343D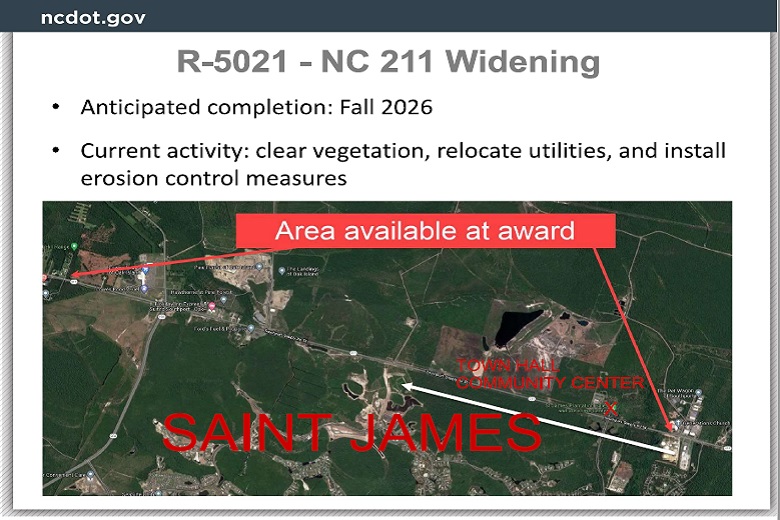 The county's bridge projects have been marked on maps with their locations, projected start dates and NC 211 Widening Project aerial drone pictures, along with overlay depictions of the two overpasses showing progress is being made.
The map shows the detours and road closures planned to allow construction of the Regency Crossing / Regency Gate community. The detour allows the community to continue to function while the gate is closed; it will be coordinated with the Town of St. James, the St. James Plantation Property Owners' Association (POA), and the St. James Fire Department (SJFD).
Click here for the pdf file of the briefing: https://bit.ly/3Q74W3T
——————–
DiscoverNChomes
Phone: (910) 363-4387
Address: 4320 Southport-Supply Rd SE Suite 100, Southport, NC 28461
Here are a few of our reviews:
https://discovernchomes.com/broker-reviews/
Search for homes in St. James Plantation area: https://discovernchomes.com/mls-property-results/?transactiontype=on&subdivision=st%20james
Read our latest blog posts:
https://discovernchomes.com/blog/
Check out our list of rental properties in St. James Plantation and Brunswick County:
https://discovernchomes.com/rentals/
About Nolan Formalarie
Nolan Formalarie has been in the North Carolina Real Estate Industry for over 8 years and enjoys every minute of it. He is involved in every aspect of the industry including selling and purchasing residential property, home watch services, property management, association management and construction.