Just past the cascading waterfall entrance, the Palmetto Creek amenities rich neighborhood offers a resort style pool, putting green, boardwalks, kayak launch, fitness center, outdoor pavilion, and clubhouse. The gated community is conveniently located between Southport, Holden Beach, and the Wilmington-Myrtle Beach corridor, Highway 17.
Residents of the gated community of Palmetto Creek of the Carolinas enjoy the nature trails for walking and cycling along breezy palm trees. It's a pedestrian paradise for outdoor activities. Take time to fish or kayak on the ponds too!  Six individual neighborhoods give homebuyers plenty of options for selecting their dream home.
* * *
Palmetto Creek Entertainment is happening! From chili contests to bingo night, Palmetto Creek living is big fun! This month the PC Music Lounge (also known as the Palmetto Creek Club House) is featuring Mike's Garage Band and a fifty-fifty raffle drawing. Stay tuned for more PC entertainment!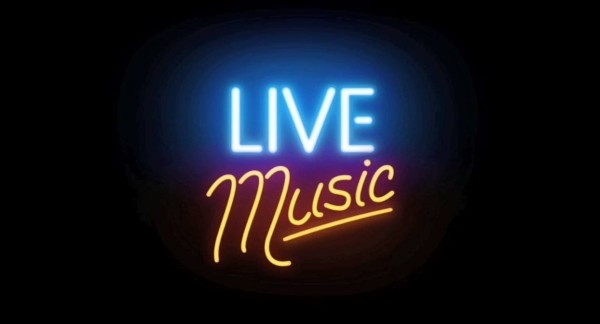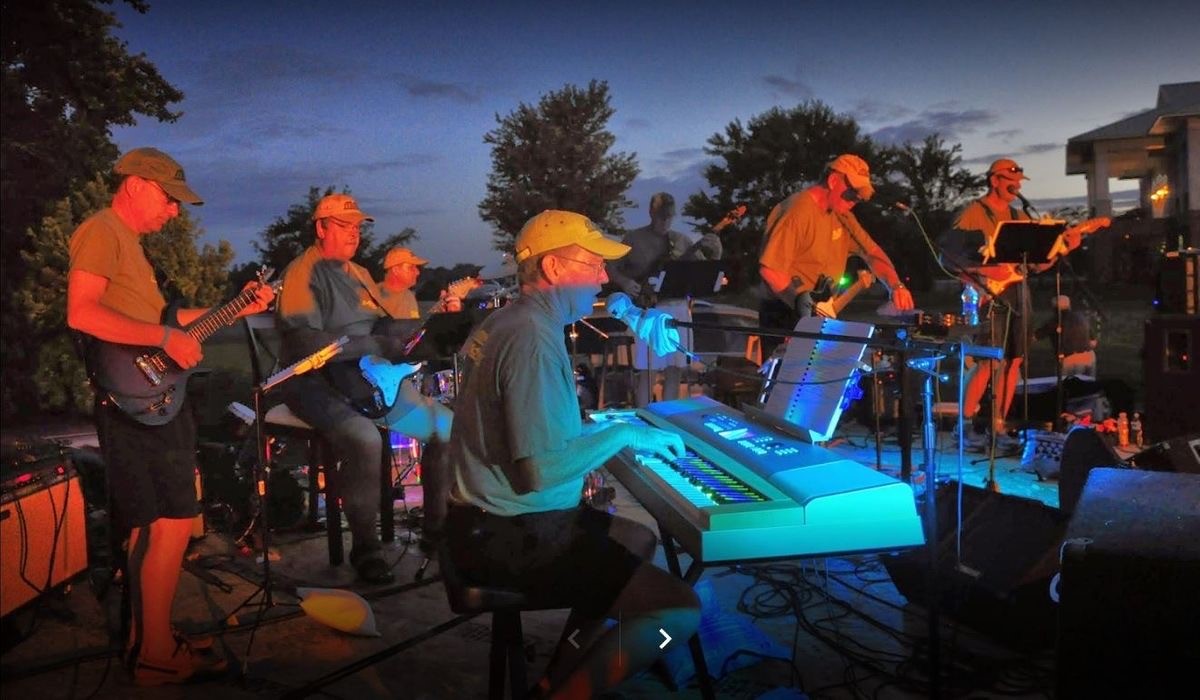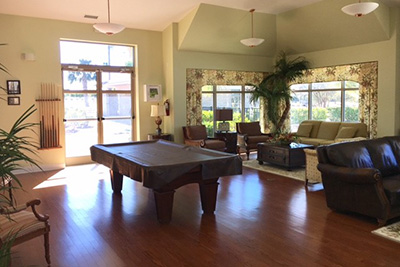 Clubhouse: Community club house available.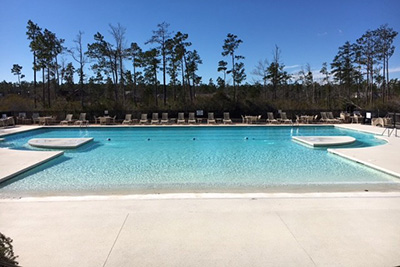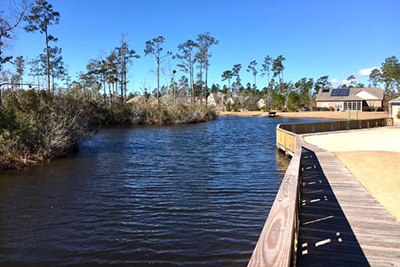 Water View: Some pond views.
Real Estate
Pond and Nature Views
Home-sites from $50,000
New and Re-sale homes from $200,000
Town homes from the low $200,000
Community Size
Estimated 380 Single Family Homes and 90 Townhomes
50 Homes currently constructed and 23 townhomes
Approximately 220 acres
Area Beaches
45 minutes to Wrightsville Beach
15 minutes to Holden Beach
Spring work projects may still be a few months away, but Palmetto Creek home owners are beginning to see amenity and common area improvements throughout their community.
The community irrigation system is getting an upgrade! The old outdated wiring was cracking and causing breakdowns in the system. Construction crews recently bored under the roads to install protective conduit for new wiring. The new system will soon be up and running just in time for summer irrigation. Trees, flowers and shrubs will be delighted! Go green!
The 1800 foot Nature Trail Boardwalk was recently power washed and sealed. With the great weather that we are having, Palmetto Creek nature lovers can now enjoy leisurely walks overlooking babbling streams, wild ferns and wildlife.
The sand trap recently got 3 tons of sand added to it for golfers to use when they are putting around on the putting green. Time to practice that sandpit swing!
Swimming pool resurfacing was just completed. During the past month, pool maintenance crews sandblasted and repainted the pool surface. The Olympic size swimming pool now has a fresh and clean look. Hot fun in the summertime!
Swimming pool patio pavers project is complete allowing for a more spacious seating area. Happy lounging!
Tennis courts got a face-lift! New vibrant colors were chosen and pickleball lines were painted on one of the tennis courts. Keeping fit all the time!
Palmetto Creek of the Carolinas is a gated community with all brick homes and resort style leisure amenities. Currently, there are 15 homes for sale. Price range 250-640K. 45 building lots are available too! Price range 16-92K. Outstanding property values! Convenient to shopping, hospitals restaurants and beach areas.